Rustic Flooring Options for Each Room of Your Home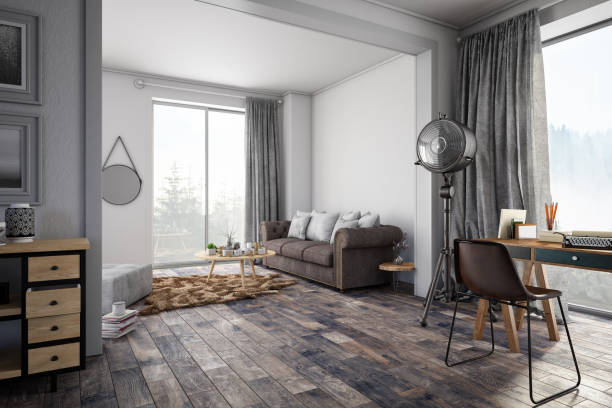 What comes to mind when you think of the term rustic? Do you get a cabin vibe? Or the feeling of a farmhouse? Actually, a rustic style could be either of those two things or something else entirely. Before we dive into how to choose a floor that qualifies as rustic, it's important to understand what the style actually involves.
Rustic Style Highlights Natural Beauty
The most important characteristic of rustic decor is the way it highlights natural beauty, essentially bringing the outdoors in. A flexible, airy style that embodies natural materials, light and elements, a rustic style can be associated with cabins and farmhouses or even boho or French country. Rustic homes are frequently filled with natural materials that create warm, comfortable living spaces which are neither stuffy nor pretentious. Think wood, leather, stone, earthy colors, soft fabrics and plants.
Rustic Flooring
So what does that mean for flooring? Rustic flooring will either be made of, or made to look like, wood, stone, or other organic materials. Because we aren't all living off the land, nor can we necessarily afford artisan floors crafted by someone who does, finding flooring that appears rustic is a more practical route.
Hardwoods Can be Rustic
If you are lucky enough to have hardwood flooring, you are one step closer to a rustic style. Because rustic also encompasses a "weathered" look, communicating a permanence that has stood the test of time, pristine new hardwoods may not give the desired vibe. And since waiting for your floors to weather on their own can take a lifetime, and abusing them to speed up the process is generally a terrible idea, opt for accent pieces in natural materials instead (see below).
Salvaged Flooring
As an alternative, you can have salvaged flooring installed. Salvaged floors are just as they sound: floors made from materials that were removed from an old building and are looking for a new home. You will need to research a source and an installer that is willing and able to rescue your new-old floors and reinstall them in your home.
Whether you are going with traditional or salvaged wood flooring, avoid using either in places with the potential for high humidity or moisture. Living spaces such as family rooms, dining rooms, and bedrooms are good candidates for wood floors.
Engineered Flooring
A happy alternative to true hardwood floors is engineered flooring, which has a thin layer of actual wood over a plywood core. Engineered floors are available in many special finishes, such as distressed or hand-scraped, giving them an authentically rustic vibe without waiting! An added plus, engineered floors are resistant to moisture, making them suitable for areas that could be damp, like basements, bathrooms, or kitchens. Be sure to double-check with the manufacturer of the brand you choose and make sure it's suitable for the space where you'd like to use it.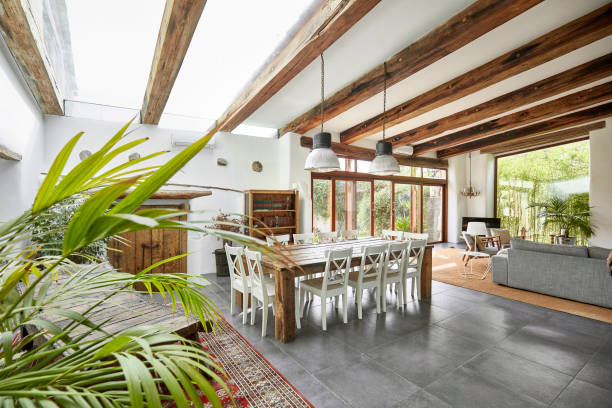 Tile Flooring
Although tile runs the gamut from super simple all the way to very luxe, there are some tiles that are nicely suited to a rustic style. Tiles that are cut from stone, such as slate, work well, as do mosaic tiles made from cut river stones of various types. Repurposed brick, while not naturally occurring, has an air of permanence and antiquity that also plays nicely with rustic vibes. You can use these natural tiles anywhere you would normally find tiles. Riverstone mosaic tile is especially nice as an accent in a rustic bathroom, or even as a shower floor since it tolerates water very well. Check with a professional about sealing your tile; some natural stones are porous and need to be sealed periodically to keep them looking their best.
Accent Pieces and Finishing Touches
Whether you want that rustic style but can't do a whole home renovation right now, or you just want to complete the look, you can add to the rustic vibe with accent pieces. A sisal or jute rug in the living room or under the dining table found items such as pretty stones, driftwood, seashells, or pinecones, all bring the outdoors in. Check out yard sales or flea markets for antique items to add that won't break the bank. Choose a carpet or wall color that reflects nature. Throw pillows and soft blankets in earth tones and some houseplants complete the look.
When you are ready to take the plunge into all things rustic, pay a visit to the design professionals at Specialty Flooring. We can help you choose the perfect flooring for your space to get the vibe you want, suggest finishes that fit your style and budget, and set you up with an installer. You'll be on your way to a rustic-styled home in no time!